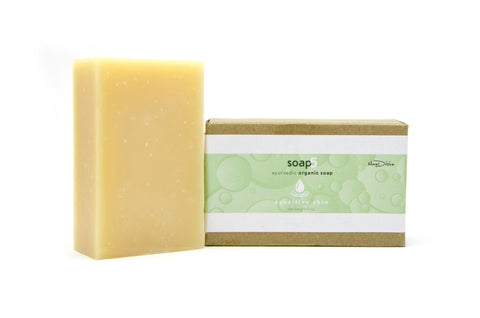 Soap should heal your skin, not irritate it with artificial fragrances and chemicals. Designed for those with allergies, this gentle, fragrance-free Soap is a perfect match for anyone with sensitive skin. The naturally moisturizing ingredients build into a creamy lather that goes deep to create beautiful skin, while keeping irritation to a minimum.
THE FORMULA
This simple formula is made from a blend of sunflower, safflower, and coconut oils for deep cleansing and ultimate skin hydration. We like to keep it simple, so just a touch of aloe and turmeric are added to fight off impurities and blemishes. For the final touch, we add in lime essential oil, for true holistic healing, to calm and refresh the mind.
BENEFITS
This Sensitive Skin Soap is completely fragrance free and leaves out harsh chemicals and overwhelming scents. Instead it harnesses the powers of Vitamins A, C, D, and E to holistically heal with a simple blend of essential oils that clear away dead cells, lessen signs of aging, and give your skin a healthy glow.
APPLICATION GUIDE
Where? Face & Body
When? Morning, Night, Midday, All The Time
How Much? Enough For a Soapy Lather
How Often? Daily, Weekly, As Often As You Want
How To? Use a wet, warm washcloth to gently exfoliate and cleanse your face and body. To make it last longer, make sure to let your Sensitive Skin Soap5 dry between uses.